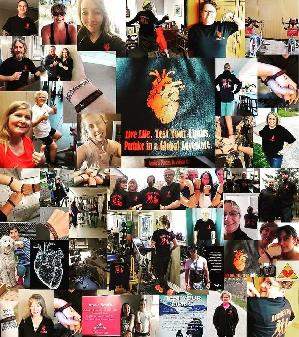 Hi and Welcome to the 4th Annual Annie's Pace Global Adventure, known as APGA! I am so excited for YEAR 4!
I'm Annie and I became a heart patient 7 years ago when I was diagnosed with a very rare, incurable, life-threatening heart disease, Cardiac Sarcoidosis (& systemic Sarcoidosis). I've been a Personal Trainer & Group Fitness Instructor for the last 27 years and my passion is educating others how to create a balanced, healthy and mindful lifestyle. My life came to an abrupt halt when I became very sick. I had an ICD implanted (pacemaker and defibrillator) quickly, had many procedures and tests over the years and I started taking many medications daily to help sustain me. However, I wouldn't let this stop me from working out as I safely could. I took on walking when I was at my sickest, on the recommendation of my cardiologist, Dr. Heather Ross, who is the Division Head of Cardiology at the Peter Munk Cardiac Centre and Site Lead of the Ted Rogers Centre for Heart Research at University Health Network. It's now one of my favourite exercises!
In 2019 I created APGA. APGA is a 4 day, all-abilities Adventure every May, where the WORLD unites for 4 days for heart health awareness! The goal during those 4 days (& lifetime), is to exercise for 1 HOUR/DAY, OR Test Your Limits along with myself and exercise as long as you can. Each APGA I have treadmill-walked: 180 km-2019/161km-2020/150km-2021.
All donations go to the Test Your Limits Initiative at the Peter Munk Cardiac Centre: "The funds raised will be for support of heart disease and heart failure research. 100% of your support will go directly towards making research in heart failure and transplantation possible."
APGA has raised $15,000 in 3 years and APGA's 2022 goal is $5000 again.
I have created a public Facebook page: 'Annie's Pace Global Adventure' which provides APGA updates and anyone can post words of encouragement for other worldwide participants along with APGA videos and pictures. I welcome YOU to join and share where you are participating from!
I hope to inspire and help you achieve the best version of yourself daily and choose courage over comfort and fear.
'Your life is worth 1 hour/day.' –Dr. Heather Ross.
Can you please help and make a donation today. My heart and all the other sick hearts out there thank you!
Smiles!
Annie
View More